Ambassador Spotlight: Brenda Baker
Brenda J. Baker, PhD, RNC, FAAN


American Association of Colleges of Nursing
What made you want to become an FNINR Ambassador?
Opportunity to continue the work I was exposed to while a RWJ Health Policy Fellow.
How long have you been an FNINR Ambassador?
1 year
What advice would you give your younger self?
Don't wait to get involved.
What made you want to pursue a career in nursing?
Watching my mother as a nurse. She cared for so many people in our hometown and touched so many lives.

What book should every nurse read?
Hard to pick just one book, in our current world, Dopesick, based on the ravaging impact of the opioid crisis in SW Virginia.

What has been your most interesting/surprising outcome while conducting nursing research?
Open your mind to the data. It will speak to you in ways you didn't anticipate.

What is a fun fact many people may not know about you?
I started out as a Diploma nurse. It was an amazing education. Even though it has been a long education journey it was totally worth the slow start.

About Brenda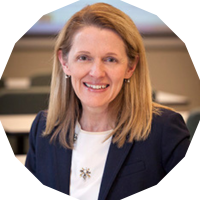 Brenda Baker is the Director of Policy for the American Association of Colleges of Nursing and a 2021-2022 Robert Wood Johnson Foundation Health Policy Fellow working in Senator Bill Cassidy's office. Dr. Baker's, work has focused on the care of women and newborns, maternal well-being and advocating for incarcerated pregnant and postpartum women. In a unique partnership between the Georgia Department of Corrections and the Nell Hodgson Woodruff School of Nursing, the Georgia Prison Motherhood Project was formed. Through the partnership, volunteers provide prenatal education, labor support, and a postpartum support group for women in the Georgia Department of Corrections. To date over 400 incarcerated women have benefited from the programs.
Prior to joining AACN Dr. Baker was an associate professor at Emory University, Nell Hodgson Woodruff School of Nursing and worked as a Clinical Nurse Specialist in perinatal settings. Dr. Baker serves on state and national committees representing the unique needs of incarcerated pregnant women. Dr. Baker earned a diploma in nursing from Roanoke Memorial Hospital School of Professional Nursing, a MN from Emory University, a Ph.D. from Virginia Commonwealth University in Richmond Virginia, and a Juris Masters from Emory Law School.
Share this post: